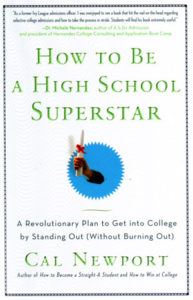 We are reading two books that we feel should be required reading for all high school students and we wanted to share the first with you. You'll have to check back to find out the name of the second…
Our parents often feel that they are coming "late" to the college admissions process–that they might have missed some important tip or trick to prepare their student for the competitive college admissions landscape. These parents often wonder what they should be doing in 8th, 9th and 10th grades to help prepare their student for college admissions.
Our advice? Get the facts and don't fall for the hype surrounding admissions. One easy way to do this is to check out this book:
Book #1- How to Be A High School Superstar, by Cal Newport.
In this unique take on college admissions, Cal Newport proposes that applicants can get into the colleges they desire by "doing less and living more." He discusses the advantages of "underscheduling," the benefits of "interestingness," and asserts (as we believe) that college admissions can, in fact, be stress-free.
So parents, don't fret! Instead, grab a copy of How To Be a High School Superstar and read it. Then have your student read it. It will definitely help to start a very important discussion about how to calmly approach college admissions. You can order it here. 
Do you have books that you would recommend? We would love to hear from you! Follow us on Facebook.